There are 4 main reasons for Portland commercial floor cleaning. While the order of importance shifts in some situations, the fundamentals always remain the same.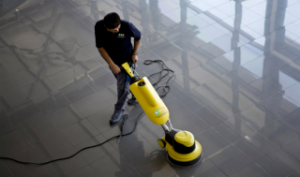 Protection * Safety * Ease of Cleaning * Appearance
Our Portland commercial floor cleaning services are always provided with quality products and equipment. We guarantee all of our work and our pricing is very competitive. We can accommodate any size building or facility from under 5,000 sf to over 200,000 sf with ease.
We service all industries: Retail, Office, Medical, Government, Educational, Banking, and Industrial
We are experienced in all "types" of floor surfaces:
Vinyl & Linoleum Floors * Anti-Static Finishing * Hi-Tech Facility Floors * Ceramic Tile *
Natural Stone Floors * Stained Concrete & Epoxy Floors * Wood Floors
We offer any frequency for your convenience:
One-time services * Routine Maintenance Contracts available * Emergency Services
We are fortunate to have partnered with Ilya Rahklin, bringing his 20+ years of floor knowledge, industry know-how, and experience to A.Q.C. is an invaluable asset.We are confident you will love the results, and we feel so strongly that we offer a:
"Free-demonstration" to earn your business.
Call TODAY to learn about our "Specials" or to schedule a "Free-demonstration"
Why Maintain your Floors? Here is our industry knowledge on the importance of maintaining your floors:
Safety
Clean, well maintained floors are safer, more slip resistant than dirty floors. Dirt, liquids, spills of many types reduce the slip resistance of floor finishes, making them less safe. A thorough and well defined program will help prevent slip and fall accidents before they happen.
Ease of Cleaning
Well maintained floors require less effort to clean, they are easier to clean. Almost all floors have some degree of porosity, which means soil can get trapped, dirt builds up and cleaning becomes increasingly difficult. Sealing and finishing floors smooths out the surface, filling in the pores so soil has less opportunity to deposit, and is easier to remove.
Appearance
Maintenance improves gloss and overall appearance. Customer appeal, increased revenue and satisfaction all are good reasons to properly maintain floors.
Create a maintenance program!
Any floor that gets traffic needs to be maintained. With few exceptions, floors should be maintained starting with a good floor finish product followed by a scheduled, routine maintenance program. Floors of all types, vinyl, vinyl composition, asphalt, clay, terrazzo, the so-called "No Wax Floors", etc. are going to be walked on, get dirty and therefore need maintenance.
YOU NAME IT – WE CLEAN IT