For cleaning services Portland small businesses make the clean call – AQC Commercial Cleaning! We clean all types of office spaces – From experience we know that routine office cleaning is all in the details, communication and follow through.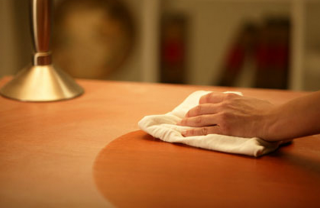 Security – We know exactly who cleaned your office last night. We hire only employees who pass a 7 year background check, complete a 90 day training program,  and pass  a 90 day training and safety program before we choose to accept them onto our Portland office cleaning team. Our employees wear a Company Uniform and have  ID Badges so they are clearly identifiable in all accounts and at all times while on the job. AQC employees have longevity within the company – We invest in them and we value their hard work, and reward them properly- this help us to cut down on employee turn over.  So we know exactly who cleaned your office last night!
ANY Size– We are equipped to clean any size of office building from under 2,000 sf on up
ANY Frequency – We can perform routine janitorial services for your office space on any frequency you prefer; nightly, weekly, bi-weekly, monthly.
Confidentiality – Here at AQC we have proper systems and procedures in place to follow the Best Practices Guidelines so our customers have peace of mind knowing that all areas are checked, secure, properly trained, and inspected at all times.
Insurance – Our Company insurance is over the minimum requirements needed for a commercial cleaning company, and we are able to appoint your company on our insurance should you require us to do so. We also have all employees bonded through the company on top of performing our 7 year background check on each employee upon hire.
Key Management Program – Here at AQC we have implemented an updated key management program for all of our employees. This system involves a master lock box, codes to identify our accounts, NOT your pertinent information, and a master sign out sheet for employee accountability. You have the peace of mind in knowing that we hold the security of your building as our #1 Priority here.
Billing – If you need a main headquarters location billed monthly for services we can do that, and we will still perform routine customer service at the location itself to ensure their needs are being met. We are also able to be personable enough to use your unique billing system if you would prefer.
Hi-Tech Cleaning – Many Buildings have new displays, monitors, customer workstations, and  Hi-Tech surfaces that require specific instructions for cleaning. It is important to know that all AQC employees have the proper training on ways to clean these items, and have the proper tools to do so.
Disinfecting – Our main job to to protect the health of your employees, staff, customers and overall establishment. We use the latest cleaning products & equipment that allow our cleaning technicians to remove soil and disinfect at the same time. We know the importance of properly trained employees taught to disinfect important areas like door knobs, light switches, chairs, counters – on each and every clean. Cleaning needs to be detailed and specific and we allow our employees are allowed proper time to clean and disinfect your office or building.
Staging– Your facility is there to attract customers, and having customer appeal means always having a professional first impression. Having the main entrance or waiting area cleaned properly with pillows fluffed, chairs aligned, magazines neatly stacked  & strategically placed for the next business day is important, after all this is your image.
Maintenance Programs – We offer contracted and non-contracted Portland small business cleaning maintenance programs. Contracted maintenance programs allow us to provide a substantial discount for services if you agree to use our services and within the recommended time frame period. Non-contractual maintenance programs allow us to keep you informed on what services that need to attention along with our competitive pricing to keep you informed and in the know to make decisions when it is convenient for you.  We provide maintenance programs that are adjusted to any budget, reminders, and follow up on all services that we have completed to ensure customer satisfaction.
One stop shopping-This is important too because we find that your industry is always busy. We know how important it is to you to have one place you trust for all your needs. Besides Routine Janitorial services we provide window cleaning, carpet cleaning with a reliable spot cleaning program for in-between services, complete floor care and maintenance for ALL types of floors, we offer graffiti removal & deicer services for your customers, we can provide all your building supplies and inventory services, awning cleaning, and pressure washing, and if you go through a remodel we will give your facility the "white glove" cleaning it deserves once construction is complete. Here at AQC we provide these services, we always give customers a "loyalty" discount, and we keep you informed of what needs to be done, the details involved, and provide you with a few options to choose from.
Here at AQC we have an excellent reputation, we are involved in our local communities, and are passionate about our industry!
We would love the opportunity to earn your business and show you exactly how well we take care of our customers.
Schedule a walk through of your establishment to review your Portland small business cleaning concerns & needs for an accurate bid for services
or
Call 503-516-2477 or